Mansfield Metcalf Dinner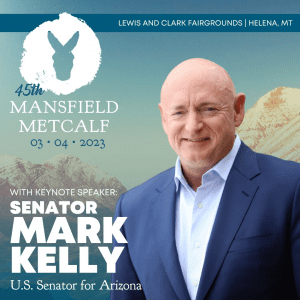 U.S. Senator Mark Kelly of Arizona will deliver the Keynote address for the Mansfield Metcalf Dinner on March 4th, 2023 in Helena, MT.
Senator Mark Kelly is a retired U.S. Navy combat pilot, engineer, NASA astronaut, and Arizona's Democratic Senator. Mark took office in December 2020 after Arizonans elected him to fill out the remainder of the late Senator John McCain's term. And in 2022, Arizonans elected him to a full six-year term in the Senate. Senator Kelly lives in Tucson with his wife, former Congresswoman Gabby Giffords.
"We are thrilled to host Senator Kelly in Montana. Although it's a much shorter trip to Helena than to the International Space Station, we are honored he is making the journey," says Montana Democratic Party Executive Director Sheila Hogan. "Throughout his long and diverse career, Senator Kelly has dedicated his life to service, protecting Americans, and fighting for working families. He'll feel right at home among Montana Democrats."
The Mansfield Metcalf Celebration is the Montana Democratic Party's biggest event of the year. Past speakers have included then-Vice President Joe Biden, Senator Cory Booker, and DNC Chair Jamie Harrison. This year's celebration will be on March 4th, 2023, at the Lewis and Clark County Fairgrounds.