Thank you all so much for following along with this dynamic redistricting process. The Chair has scheduled one more meeting on the new proposals, especially Proposal 12. There has never been a more important time to weigh in on this process. Not being engaged this week means two Republican Congress representatives for a decade.
The hearing will start Thursday, November 4 at 9:30 AM. Click here to sign up to attend the meeting by Zoom.
Competitive districts benefit all citizens, from all political affiliations. Voting districts that are not competitive have less attention their representatives, and result in lower voter participation.
Just a reminder since there have been so many updates:
· Democratic proposals are 11 and 13.
· Republican proposals are 10 and 12.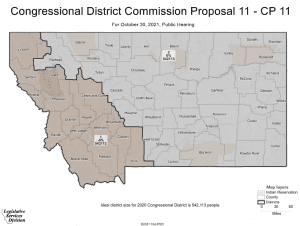 Here are the key points on Proposal 11
·This plan is population equal, with only a one person difference between the two districts.
· This plan includes the Flathead and Blackfeet Reservations in a competitive district, meaning that any candidate who runs for the seat on either side of the aisle must win over Native voters in order to win.
· This plan does not unduly favor any political party because it establishes a truly competitive district.
·This plan keeps Flathead County whole, and is a major move toward consensus, which has taken a lot of give and take on both sides.
·This plan follows the historical precedent of the 1980's congressional map, keeping intact as many historical communities of interest as possible while achieving perfect population equality that acknowledges where Montanans live today.
·This plan recognizes the importance of county lines, city limits, and communities of interest. It splits no cities or towns and achieves population equality by acknowledging community of interest concerns in Lewis & Clark and Gallatin Counties.
·The tourism economies centered around Glacier and Yellowstone National Parks are both included in the western district, keeping a bipartisanly recognized community of interest intact.
·The Canadian interface has representation in both districts, which addresses a concern raised by citizens along the border.
·Both districts include sections of the Empire Builder Amtrak line, meaning both Representatives will have to advocate for funding for the train line.
·This plan ensures District 2 has strong rural voices. Of the major cities in Montana, only Great Falls and Billings are in District 2, ensuring one seat where rural voices will be a majority.
·This plan keeps the union towns of Helena, Anaconda, Deer Lodge, and Butte in the same district.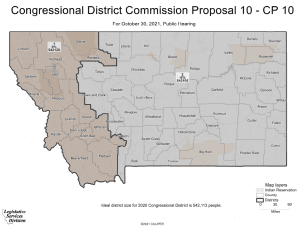 Key points on Republican Proposal 10
·This plan breaks with the Historical precedent in Montana by separating the towns of Helena and Butte, diluting union strength and breaking apart a community of interest that's existed for over a century.
This plan creates two Republican districts, which unduly favors one party. With two congressional districts now instead of one, a fair map includes one competitive district that either party can win.
This plan dilutes the power of Montana farmers and ranchers by breaking up the Golden Triangle and critical grain and cattle producing regions in Montana. This is cracking the farm and ranch vote pure and simple.
·This plan separates commuters that live in Jefferson county from the place where so many of them work in Helena. This is clearly breaking apart a community of interest.
·This plan splits the towns of Big Sky and Gallatin Gateway even though there is no clear reason to do so since Gallatin county could have been split in such a way to keep them together. This is a partisan cut of Gallatin County designed to crack apart Democratic votes and splitting two small towns for no reason violates your criteria on minimizing the unnecessary division of towns.
·This plan separates Park and Gallatin County from one another, cutting apart an area with vital economic connections and shared interests. Plan 11 better acknowledges this community of interest.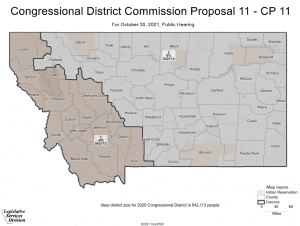 Key points on Republican Proposal 12
Click here to comment on plan 12. The most important thing you can do this week is comment on this plan, AND plan to testify via zoom or in person.
·This plan creates a district where Republicans have won over 75% of statewide elections over the last 8 years in one district and 100% of elections over the last 8 years in the other district. That's not competitive and intentionally drawing both districts to heavily favor the Republican party violates this Commission's goal of not unduly favoring a political party.
·Republicans won every single statewide election in both of these districts in the most recent election. There were 8 statewide races in 2020 and Republicans won all of them in both districts. That is clearly not meeting any basic definition of competitiveness that this Commission unanimously adopted as a goal.
·This plan separates Butte from Jefferson County. People commute from Jefferson County into Butte every single day, and it makes no sense at all to separate the two communities.
·This plan intentionally cracks the union vote to separate workers who have banded together for more equitable workplace standards. Separating Helena union workers from their brothers and sisters in Butte, Anaconda, and Deer Lodge isn't just bad policy. It's immoral.
·This plan slices Park County off from Gallatin. Livingston is a vital part of the greater Galaltin regional economy, and their interests will be ignored in District 2.
·This plan splits a small rural county, ensuring that its voters will be ignored by both Congresspeople. County splits should respect communities of interest and large counties have distinct communities of interest within them that can be split more logically and ensure real representation for communities divided within a county.
·This plan ensures that rural voices can never carry the day in any Congressional district. Our largest urban areas are equally split between the two districts, meaning that rural Montanans can never elect a Congress person of their choice.
About Proposal 13
The Democratic Commissioners, in an attempt to reach consensus with the Republicans have introduced a new plan, CP-13. An interactive map can also be found here. It is equally as competitive as Proposal 11.
Thank you all for staying engaged in this process that will determine the next decade for Montana.