A bipartisan group of U.S. senators have come to an agreement on a gun safety, mental health, and school safety bill that will help prevent gun violence. If made into law, it would help keep guns out of the wrong hands and would provide critical support to states and local communities working to intervene in this crisis. The bill addresses the varying forms of gun violence, including mass shootings, domestic violence, gun suicide, and community gun violence.
We encourage you to contact your legislators today to find out more and express support for taking real steps to ending gun violence in our communities.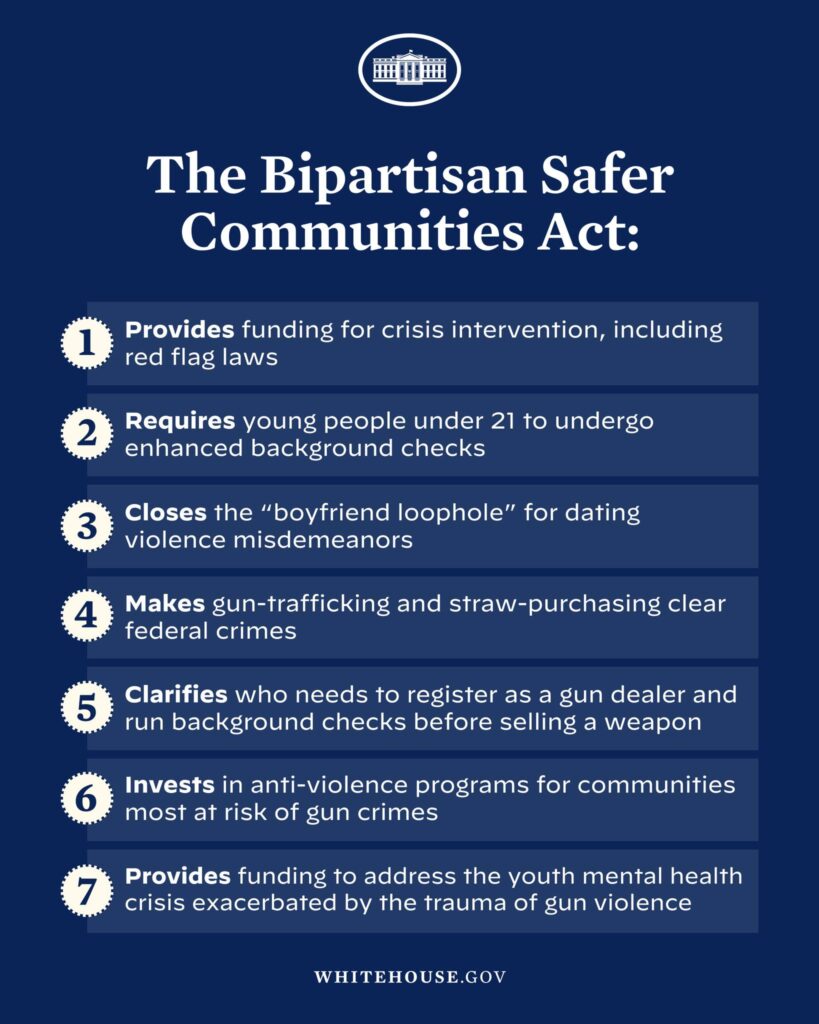 SUPPORT FOR STATE CRISIS INTERVENTION ORDERS
Creates a new $750 million funding pot that will be available to states for the
creation and administration of laws that help ensure deadly weapons are kept out of
the hands of individuals a court has determined to be a significant danger to
themselves or others, and other purposes such as mental health courts, drug courts,
veterans courts, and extreme risk protection orders that have sufficient due process.
PROTECTIONS FOR VICTIMS OF DOMESTIC VIOLENCE
Adds convicted domestic violence abusers in dating relationships to the National
Instant Criminal Background Check System (NICS). Creates a process for removal
from NICS five years after the completion of the sentence, only if there are no
intervening prohibited crimes or other similar offenses.
CLARIFIED DEFINITION OF 'FEDERALLY LICENSED FIREARMS DEALER'
Cracks down on criminals who illegally evade licensing requirements and clarifies
which sellers need to register, conduct background checks, and keep appropriate
records.
UNDER 21 ENHANCED REVIEW PROCESS
Requires an investigative period to review juvenile and mental health records,
including checks with state databases and local law enforcement, for buyers under 21
years of age.
NICS will have up to three business days to conduct the initial enhanced search. If
that search reveals a possible disqualifying record, NICS will have an extended
window of no more than ten business days total to complete the investigation.
Provides additional funding to the FBI to administer new process checks in NICS and
grants to help states upgrade criminal and mental health records therein.
PENALTIES FOR 'STRAW PURCHASING'
Creates federal straw purchasing and trafficking criminal offenses, allowing
prosecutors to target dangerous illegal gunrunners.
VIOLENCE INTERRUPTION FUNDING
Provides $250 million in funding for community-based violence prevention initiatives.