We are pleased to announce critically acclaimed author Ryan Busse as our Truman Dinner speaker!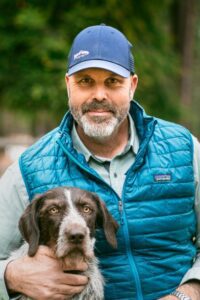 Ryan has traveled a long, circuitous path along the American gun journey. As an avid hunter, outdoorsman, and conservationist–all things that so many Montanans believe in–he rose to the highest ranks of the rapidly growing, multibillion-dollar firearms industry. But throughout his career, he became very troubled as the gun industry replaced self-imposed decency with rampant fear-mongering, racism, hardline conservative politics, and McCarthyesque policing.
It all drove Ryan to do something no other gun executive has ever done. He spent nearly two decades fighting against the NRA from the inside, battling to defend the culture of responsible gun ownership he had learned as a boy on a ranch. He then gave up his career to alert the country about the dangers and sources of our national radicalization.
His book Gunfight has been critically acclaimed as essential, brave, important, and groundbreaking. As a result, Ryan has spent the last months appearing in interviews with CNN, The New Yorker, ABC, Trevor Noah, NPR, The New York Times, and more than 50 national podcasts. He has also provided policy briefings to the United States Senate Democratic Caucus and to more than two dozen advocacy groups across the nation.
Ryan is an outspoken Montana Democrat with a long history of political involvement and advocacy in our state. He is the former chair of Montana Conservation Voters and the former North American Board Chairman for BackCountry Hunters and Anglers. Ryan lives in Kalispell with his wife Sara and their two boys Badge and Lander.